As you may know, the last couple of years have been pretty tough for me. My father's health has been ailing, and I had to step in and really take care of all aspects of his healthcare, even though I live about 3 hours away. During this time, I had to put many things that I love doing on hold, such as stitching temari. The hiatus came naturally, though, as the depressing nature of what I was going through sapped away my creative juices.
Last fall, I was invited to give a talk about the art of temari to a fiber guild that I'm a member of . (https://www.centralpaweavers.com/) After the talk, I went out to lunch with a few of the guild members, whom I had not seen in over a year.
I was discussing with them the creative funk I found myself in. It had been a long time since I felt inspired to make anything, let alone had any exciting ideas for original designs. Was I ever going to get that mojo back?
One of my lunch companions related to me a story that she had seen on television, where they compared the act of creation to the breath. Simply put, everyone needs periods of "inhalation", in which they take in inspiration, so that that can later "exhale" something creative. She assured me that when the time was right, I would get back into the swing of things.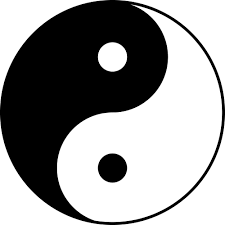 As I made the hour and a half long drive home, I found myself really fascinated with this idea. I loved the yin and yang idea of inspiration and creativity, and I wondered if I could translate this somehow into an original temari pattern. After some pondering, I came upon something that I really liked. Something that could use color to show this beautiful idea of inhalation and exhalation.
Fast forward about two months, many hours, and several large stage thread-rip outs, and I got something that was JUST what I had hoped for. I couldn't believe it! I got to try swirl stitching on a newer division, and in a different WAY than I had ever seen it done before. (Of course, it may have been stitched this way by someone else, I've just never seen it done…and for a very good reason! It is SO tedious to do!). But the results were worth it.
Front View

Back View

a side view

It hangs so that all sides can be seen. A gentle nudge helps!
This ball really makes me feel like an artist. This is the first time I've had an abstract idea that I wanted to bring to life through my medium, and I feel like I really achieved it. The sense of accomplishment I feel for this ball is far greater than for any other temari I've stitched. And best of all, it pulled me out of my creative drought, and helped me to get my groove back.
I'm happy to say that I'm sharing this ball in a number of very exciting ways. It premiered at the Mid Atlantic Fiber Conference Art Show this summer, where I was privileged to be teaching a beginning temari seminar. Set among some amazing tapestries, baskets, felting and other fiber art, it did a great job of showing off just what temari can be to many participants there taking other classes. And it fit the theme of the show, which was "Threads of Communication". ( https://mafafiber.org/ )
But as if that wasn't enough, my beloved ball is happily vacationing in Japan right now. It's the first time I've sent an actual ball there and I couldn't be more excited. My mentor in the Japanese Temari Association has taken possession of it, and will do me the great honor of entering it in the Akita National Temari Competition! This event, sponsored by Yuri Honjo City, is one of the largest temari exhibitions in Japan, with usually over 400 entries! And to top it off, this is the 50th anniversary of the event, so it is expected to be even bigger than usual.
So come October 19th to the 21st, I'll be thinking of my special "Inhalation/Exhalation" ball, representing me, my journey, and really a lot of my aspirations to the people that invented this amazing craft that has become such a huge passion for me. I dare not hope for a prize of anykind, but I do hope that some people there enjoy seeing it.
And the third way I get to share this ball is here, with you. Just like I am hoping for at the competition, I hope you also enjoy seeing it.
This ball really showed me how far things can swing, and to keep faith when things seem grim. With good friends, some self-confidence, and a little luck, amazing things can spring forth at any time! You just have to remember to breathe.
UPDATE:
Here is it, on display at the festival!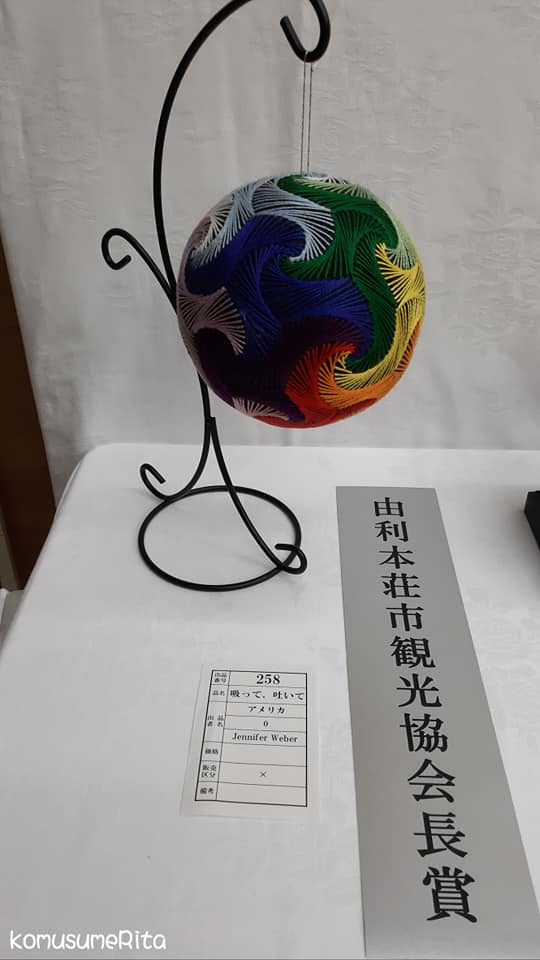 It is so exciting for me to see my ball on display. And, incredibly, it actually did receive a prize! I was awarded a Chairman of Tourism Board award. This was beyond my wildest dreams and expectations. I am so happy that this very special temari of mine made it all the way there, and could show everyone my love for this art.